Purchase with confident !!!
Payment can pay by:

1.PAYPAL (included Credit card through paypal).
2.Western Union / Money gram.
3.Bank Transfer to My Thailand's Account

We SHIPPING to world wide by post air mail register with tracking number from THAILAND POST.
Please Purchase with Confident. Seller has accepted 100% Satisfaction guarantee by full refund money.
More Question? ">send Message by EMAIL or Click here
Registered member required Please log-in to get special Price & Place Order
Availability:

OUT of Stock (Email to seller)

Product Code:

PIC_ITEM6894

Brand:
OR Send a message and Chat with seller by:
Contact seller by Send an Email :
information about this item
! Click on tab below for show  all information
Items Specifications
Item : AMULET THAI SARIRA BUDDHA RELIC HOLY SACRED BEAD STUPA LIGHT BLUE LUCKY WIN.
Nature Crystal Bead, Belived Rhis Stone Come From Lord Buddha Part Body.

Years made : Natural causes by Sacred Divine Blessing
Main Material : Relic bead
Purpose : Bz: More Customer, Easy trade, remove job Problem
Size : See on photo, if not clear please email me
This mini bead is natural from different parts of the human body who has attained the principle teachings of the Lord Buddha's purity.  Until they was dead and burned bodies, his pure energy which can not visible were change to an object into small pieces with different colors.
Nature crystal bead, Belived rhis stone come from Lord buddha

This is a very fine amulet piece, it was incantation and bless with Good powerful magic.
Thailand's amulets are becoming very popular today because believed magic amulet worn by people to protect themselves from negative energies, evil and injury, and also brings Lucky, Wealth with a supernatural power of ancient magic inside.
Million of thailand people (Celebrities, politician, athlete, Businessman, etc) still believed in Sacred Amulet will help who worship pass bad situation and resolved all crisis in life. It also protect Evil or Bad spirit can not back to attack you in future.
KHATA for this item:No need to pray Khata.
It is a mantras phonetic Praying word to consecrate and control power of this item. If temple give khata with item. I will do it to audio MP3 file and send to buyer within 7day after package ship out. If buyer not received please email to Ask me again.
---
Tag : RELIC of Buddha SaLiRa (PhraTad) !!, Lucky & Happiness & Peaceful, *Recommended,
---
---
More information of this item:

'PHRA-TART' or PHA-TAD' (พระธาตุ) meaning relic of buddha or Bone of famous guru monk in thailand.

That is a beautiful of multi color Buddha relics. They have many color represents the Bones of the Buddha after cremate. It was acquired from which miraculously appeared in a temple of Chiang Mai in Northern Thailand. The stone Has the relics on the surface. It is believed that the relics was from one of the famous monk.

You can see there are alot of glowing relics appear on this stone.

Thai people believe these relics are the parts of buddha and represent the buddha power. Powerful to heal from black magic or anythings that will harm the owner.


All of color have mean.

-Golden. orange, yellow color granules are believed by many to have originated from flesh, also believe it's the "gold" (yellow) color represents the unexpected wealth.

-Red color from blood also believe it is the "fire" in five elements. Red color represents love and health.

-Pink, white, limpid colored gem-like ones from the Buddha's head. it's represents the "water" in five elements. pink color represents knowledge and potential.

-Rare blue, violet, black color relics are originate from the space between the Buddha's ribs, and also believe it's the 'earth' in five elements represents interpersonal relationship and self-confidence.

-Green, brown color is mind of buddha and also believe it represents the "wood" in five elements. Green color represents wealth and fortune.

Thai people refer to these relics as 'PHA-TART' or PHA-TAD'. Some one believe the relics can grow, many monks tell me they don't know how the relics can grow more a little bit in every year if you put in water, it still mystical. This is real natural buddha relics not glass or plastic. It can increasingly (Growth).

This is perfect Relics of Buddha stone to your collection. They good for Lucky and protect owner from the danger and bad piritual. In thailand them will have high costs but now we lease on ebay for pecially price less. Nicely detailed and not has fragmented. Wow perfect Condition!!!.

If you want more information or have question , please email to us. I will answer any question you might have to the best of my ability.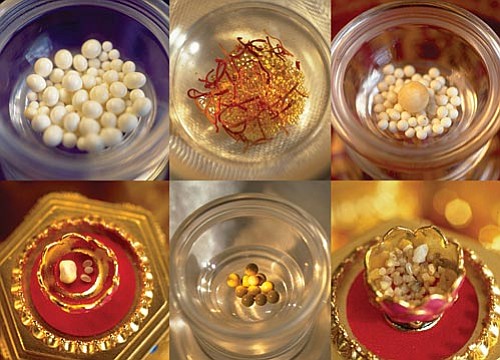 The Meaning of Buddha relic
A relic is generally a small shiny round object which may weigh only a gram, but is as glistening as lapidarian jade. An authentic relic of the Buddha can perform marvelous feats. It sometimes illuminates with radiant light. Its power can make miraculous phenomena occur. It also can replicate, vanish, and merge by itself.

"Buddhas relic", also call "Phra-That", means bone or the other part of body such as hair, nail, tooth, skin, blood, and etc. There is different characteristics from other ordinary people. The feature resembles substance which need to observed.

Kinds of Buddhas relic
Apparently, Buddha cremated bones are different from bones of ordinary people. However, it is found that Buddhas cremated bones are similar to human bone in some way. According to Buddhas relic appear in pagoda or museums in Thailand, Sri Langka and India,Buddha cremated bones can separate 2 kinds as follows:

-Buddha relic  Phra That                  

Buddha relic -  Buddha Relic  or  Phra That  Most of Buddha cremated bones found in Thailand, Sri Langka, China and Myanmar appear as mention in Tripitaka.

The kind of Buddha relic in Tripitaka.

According to Ajtakasumangkalavilassinee in Tripitaka, Phra Ajtakajarn has divided the kind of Buddha relics to 2 kinds as follows:

-Navip-Pakinna
That means Buddha relic which is an old form of appearance andsubstantially. They don t split or break down. There are 7 parts such as 1-forehead bone, 4-Phra Kiew Kaew and 2-collarbone.

-Vip-Pakinna
That means Buddha relic which split and became various small portion.They  dispersed in many worship place or temple.

2.  Buddha cremated bones-  Human Bone

This kind of bones is found only in India. England Government had given this Buddha cremated bones to Thailand two times.
1st In the fifth reign   currently apear at Wat Srakesa
2nd -currently appear at Wat Phra Sri

The Unique Characteristic of Buddha cremated bones
The general Characteristic of Buddha cremated bones that is acceptable from all Buddhist and monk appear external characteristics as follows :
There are many colors such as gold, black, pink, red and etc.
There are many patterns such as rice kernel pattern, lecture seed pattern, half bean pattern, glass drop and etc.
If there is small size, it can be float on the water, be attracted and sticked together
The amount of Buddha relics can increase or decrease. This is particularity of Buddha relics.
They can change size and color by themselves.
The weight is light.
Regarding to record, it is said that not such a big size of Buddha relic can float on the water. That part of water will be shallow to support Buddha relics. Sometimes, you may see radiance of water surrounding Buddha relic. If there are many of Buddha relics, they will sneak together. Finally, they will stick together.

So, many people said that if which place have Buddha relic and worship with well respect. They can take another Buddha relic to stay together.
-  Sacred monks Bone  or A-Ra-Hun Relics
Since Buddha lifetime until now. The great amount of monks can performed in the Buddha way. They can advance their mind to high level of meditation. As a result, Their part of body become  Phra That .
Since now, There are many monks who can practice the dharma until they became  Phra That  or A-Ra-Hun Relics. The relics can separate to 2 kinds as follow:
1.Disciple of Buddha in Buddha lifetime era. In the past, they have enumerated the kinds of Phra That of Buddhist saint amount of 48 Buddhist saints.
2.Disciple of Buddha in a half of the Buddhist era.  It started since 1957 until now. They are many monks and each become different kinds of Phra that. There are many studies in kind and changing procedure from each part of body to become  Phra That . Below are example pictures of various kind of Phra That in Thailand.
A group of Charcoal
Next, having a small spot like fish roes in white-gray color.
Fish roes grow up and become black-gray color.
Black-gray color changed to white color and Phra that size is larger.
Phra That becomes fully shape and look like corn seed.

2. How Phra That Change from bone , LP Ken Khothammo, Wat Phasripanom, Sakornakorn Province ; LP Yid of Wat NgaungGauk, Prachuap Kiree Kan Province

Bone began to change being Phra That which have 2 characters.
- They became buddle bone. There are many holes. Buddle bone shrink to be crystalised.
- For long bone, the tissue of bones appear to be thin lines. Next, they are fully crystalised.
They are similar to be Phra That.
They are completely Phra That.
 
3. How Phra That Changes from hair                   

A group of Natural hair
Hair is formed and stick together
Hair are crystallized altogether
Hair begin to become Phra That  with young brown color
They became completely  Phra That  with cream color.
Also, there is various kinds which often found like Phra That stay altogether with bone, coin or miniature. It can be said that MIRACLE.
---
---
 Optional for this item (Additional)

Please read all before Purchase !!!
we accept Paypal, Western-union, Moneygram and Bank transfer
Buyer pay all fees
i can ship world wide
Package Ship out from THAILAND by Post-office service with register air mail
Combine shipping will automatic for  same address and purchase in 5 day
package will ship out within 2-5 day after payment complete (excluding holiday)
Tracking number will email after package was shiped out and pass customs review process
Buyer responsive for all Tax Duties and import fees of buyer government
Estimated Delivery time 25- 60 days depend on location. If buyer can't agree to wait, please do not purchase. i don't want to fix trouble because this misunderstand
This listing selling with stock photo, So it not actual photo of item in my current stock.
Under Multiple quantity selling, i am using stock photo of 1 item to selling many quantity, so your received item(s) may not actual piece as seen on listing but i am confirm there your received will be similar and all significant not much difference between them. 100% guarantee about condition detail will similar as you see.
If buyer want to see actual picture of item, it ok. Buyer have to place order and complete payment before, after that just email to me with subject "want to see actual picture if paid item(s)". i will take photo(s) of actual item in current stock and send to you by reply your email. if you saw photo and confirm i will ship out package but if buyer no want to get it, buyer can cancel order and get full refund. (this process may take 2-3 day for take a photo)
Due to many type of monitors, the actual color may be a little bit different as shown
Return / Replacement / Refund
i accept full respond guarantee 100% buyer satisfaction,
if buyer not satisfied or feel unhappy with received item. Buyer can return it back and get full refund.
please email me before if you want to return package. please do not ship not thing before contact me
return with in 15 day after received package (have not to over 30 day after payment complete)
buyer accept to pay shipping cost of return package and this cost not refundable
the returned item must have a authorization tracking number which can be obtained
100 % money back will make after i received return package or tracking number of them
please packing the return package as well as in original condition, because if item damage on delivery i can not accepted and package will be return to the sender.
Damaged or incorrect item received
If get mistake on received item(s) please give me to resloved this problem by do not open dispute on ebay or paypal, because that will make only delay process.
When your received item was damaged on delivery or you have received item(s) that you did not purchase, please contact me immediately. i will resend new one to replacement
Join us on ebay (Special Offer & Free shipping)